Sta voor waar je in gelooft. Dat doen wij bij Lee ook.
For people. For planet. For A World That Works™.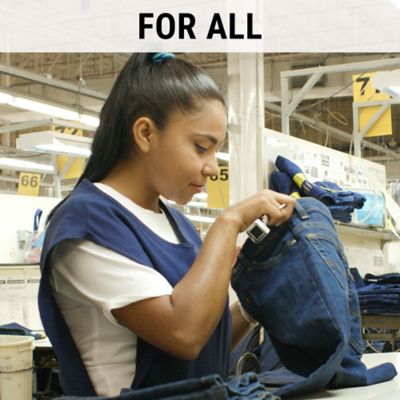 Lee streeft ernaar om meer mensen samen te brengen, en zo de gemeenschappen waarin we actief zijn te veranderen.     
Honderden uren aan vrijwilligerswerk
Elk jaar verzetten onze werknemers wereldwijd honderden uren vrijwilligerswerk ten behoeve van hun gemeenschap. Of er nu een denim-isolatielaag wordt geïnstalleerd na een natuurramp of een moestuin wordt aangelegd – Lee moedigt haar werknemers aan om iets terug te geven en ondersteunt ze daarbij.
Welzijn van de werknemers
Lee zou Lee niet zijn zonder de mensen die de grondstoffen verbouwen, de ontwerpers en de mensen die de kleding in elkaar zetten. Om hun gezondheid te beschermen, hun veiligheid te bevorderen en hun welzijn te waarborgen, hebben wij betrokkenheidsvoorwaarden en wereldwijde nalevingsprincipes vastgesteld. Wij verwachten van onze partners en toeleveranciers dat zij deze naleven.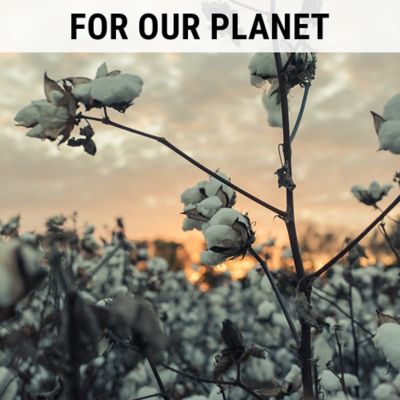 Lee zet zich in voor het zoeken naar duurzame oplossingen.
Zero-waste distributiecentra
Wij zetten ons in voor de verankering van duurzame bedrijfsvoering bij onze wereldwijde activiteiten en in onze productieketen. Alle distributiecentra die door Lee gerund worden in Noord-Amerika zijn zero-waste. Dit betekent dat minstens 95% van het afval van deze faciliteiten niet op de stortplaats terecht komt, maar gerecycled, gecomposteerd of hergebruikt wordt. Ook zetten we ons in voor nog meer afvalvermindering bij het productontwerp en in onze winkels en kantoren.
1 miljard liter water bespaard bij de productie
Bij Lee houden we niet van waterverspilling. Lee lanceerde Indigood™ Denim, een unieke en uiterst duurzame denimcollectie. Bij het verven van deze denim wordt namelijk geen water maar schuim gebruikt. Ook bespaarden we in 2019 1 miljard liter water bij de water-intensieve afwerking van onze denimproducten – en dat is nog lang niet alles.
Duurzaam katoen
Een van de manieren waarop Lee aan de eigen doelstelling voor duurzaam katoen wil voldoen, is via ons partnerschap met Better Cotton Initiative (BCI). BCI streeft naar minder gebruik van pesticiden en meer aandacht voor efficiënt watergebruik, wisselbouw en eerlijke werkomstandigheden. Kontoor Brands, het moederbedrijf van Lee, koopt elk jaar meer duurzaam katoen in – van 700 metrieke ton in 2014 naar 21.299 metrieke ton in 2020. Better Cotton Initiative maakt gebruik van het zogeheten 'Mass Balance'-model, waardoor het katoen niet fysiek herleidbaar is naar eindproducten. Ga naar Bettercotton.org voor meer informatie over dit duurzame initiatief.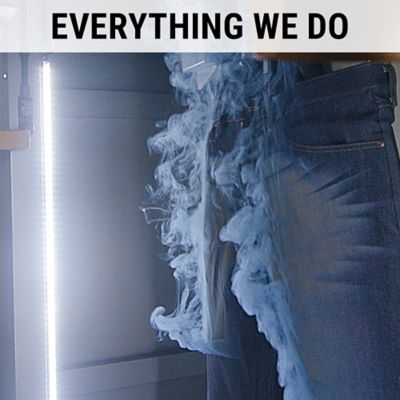 Lee zet zich in voor innovatieve ontwerp-oplossingen en betere producten. Zo wil Lee tegemoetkomen aan de groeiende vraag van consumenten naar kwalitatieve kleding, die er goed uitziet en met een goede pasvorm – zonder daarbij onze waarden voor sociale gevolgen en milieu-impact uit het oog te verliezen!
Circulaire mode
Lee is trots op het programma Jeans Redesign, in samenwerking met de Ellen MacArthur Foundation. Dankzij dit initiatief kijken wij met hele andere ogen naar ons productontwerp: we hebben richtlijnen opgesteld voor het verminderen van afval bij denimproductie, eisen vastgesteld voor de duurzaamheid en de recycling van jeans en gezorgd voor positieve effecten op het milieu. We maken hoogwaardige kleding, die minder schadelijk is voor de aarde, onze gemeenschappen en de mensen die onze producten maken.
Technologische oplossingen voor afvalvermindering
Lee is marktleider geworden op gebied van virtual design. We gebruiken technologie om de manier waarop we onze producten produceren te revolutioneren. Dankzij onze vooruitgang in virtual design is het aantal fysieke prototypes met 30% gedaald. Minder prototypes produceren betekent een waterbesparing die gelijk staat aan het waterverbruik van 72.000 Amerikanen op één dag en een vermindering in koolstofuitstoot equivalent aan die van ongeveer 1 miljoen personenauto's.